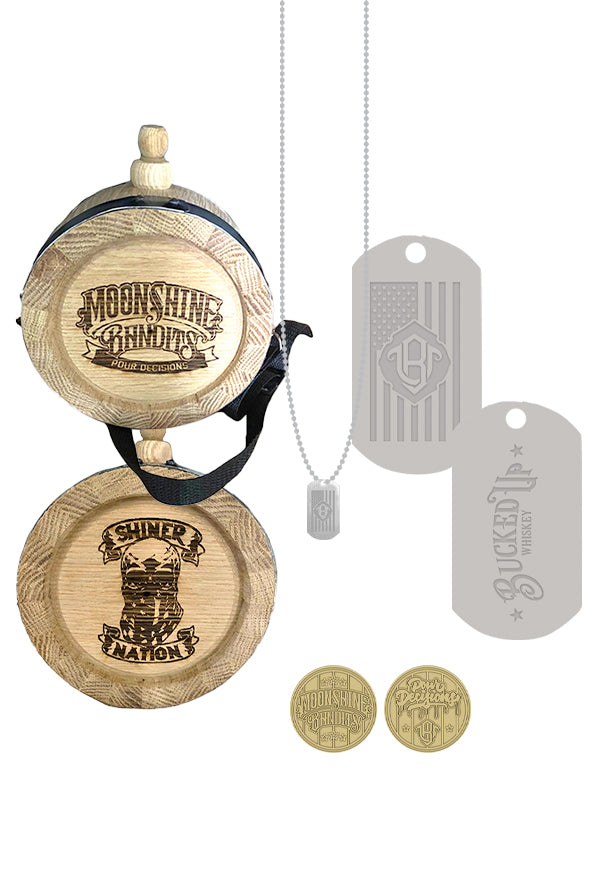 Bucked Up Pour Decisions Bundle
LIMITED TO 150!
Now Shipping!!

Oak Barrel Flask - These custom Moonshine Bandits unique oak barrel flasks are perfect for taking it anywhere you go, from the lake, hunting, a wedding, or your next party. They make an excellent gift for, groomsman, Father's Day, or even birthday gift. It'll even act as a conversation piece wherever you bring or keep it—ideal for the spirit or cocktail connoisseur and underground bartender. The Moonshine Bandits oak barrel flasks are fully functional and charred to a level three and can be used to age any spirit, including Bucked Up Whiskey. Oak barrel flasks are hand-crafted from American white oak and stainless-steel hoops.
Bucked up Dog Tag - This bundle includes an aluminum Bucked Up Whiskey branded military-style dog tag
Gold Pour Decisions Challenge Coin - With your purchase of the Bucked Up Pour Decisions Bundle, you'll receive a limited-edition gold challenge coin! Flaunt it proudly at coin checks to show your support of the Pour Decisions album release.
Challenge Coins serve as a reminder of the unity and identity of a unit. They act as a reminder of the bonds and shared experiences that exist among group members. They foster a sense of pride in being a member of the group and a sense of belonging. This promotes a feeling of cohesion and solidarity inside the company.