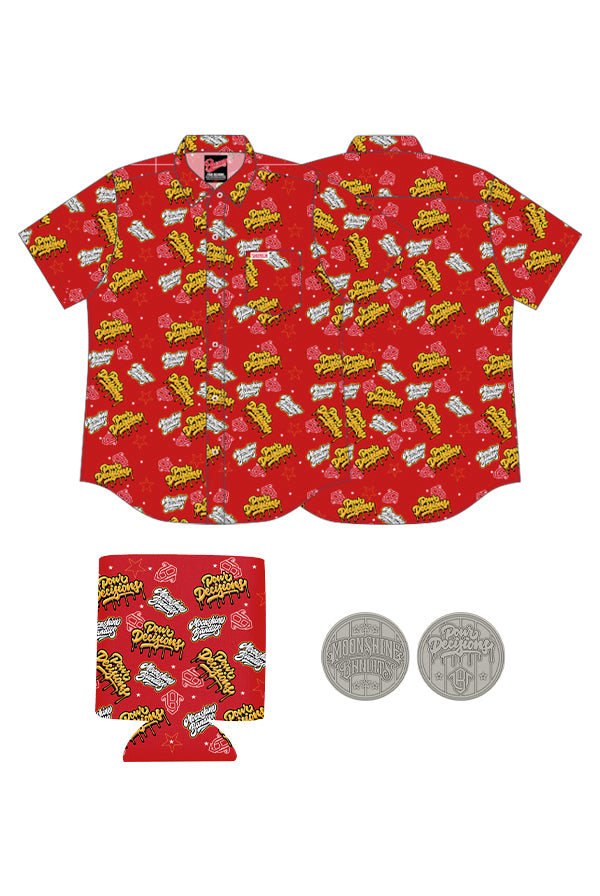 Boozey Pour Decisions Bundle
LIMITED TO 200!
Now Shipping!!

Moonshine Bandits "Boozey B" Party Line Button Downs - We ain't Boujee, we're Boozey! Our 6th Bandits "Boozey B" Party line button downs have arrived! THE "POUR DECISIONS" EDITION IS HERE! This is a limited drop (once these shirts are gone, this specific design will never be printed again). A New Themed Boozey B will then be introduced! Each Boozey Buttondown design is based on the Shiner Lifestyle and the Bandits Music. Each Boozey B features custom tags, custom embroidery, all-over print in a comfy "true to size fit" material made of poly/spandex that allows you to party with the best of them. Collect them all, HURRY These will go fast!

Pour Decisions Can Cooler - Full color foam can cooler with a print to match your new button down!

With your purchase of the Boozey Pour Decisions Bundle, you'll receive a limited-edition silver challenge coin! Flaunt it proudly at coin checks to show your support of the Pour Decisions album release.

Challenge Coins serve as a reminder of the unity and identity of a unit. They act as a reminder of the bonds and shared experiences that exist among group members. They foster a sense of pride in being a member of the group and a sense of belonging. This promotes a feeling of cohesion and solidarity inside the company.